It's that time of year again; jumper weather is in full swing, daylight hours are sparse and autumnal hues are abundant. All this can only mean one thing, it's time to start the Diwali celebrations! Whilst Diwali may look a little different this year, there's one thing you can rely on to help bring back that sense of normality, familiarity and excitement around the festival: Diwali Mithai!
Nearly a billion people worldwide participate in Diwali, with Hindis, Jaines and Sikhs all uniting to celebrate the festival of light. It's no surprise then that there's an extensive selection of Diwali sweets to choose from (the more the merrier), with each region famous for their particular mithai.

Here's a list of the tastiest festive sweets to keep an eye out for. If there's something here you haven't tasted yet, why not try something new this year?

Melt-in-your mouth sweet, nutty and creamy. These fudge-like sweets are usually diamond shaped and made with condensed milk (or khoya), sugar and cashews. You'll often find these little slices of heaven laced with fragrant cardamom. Perfect to nibble on while you sip a warming mug of chai.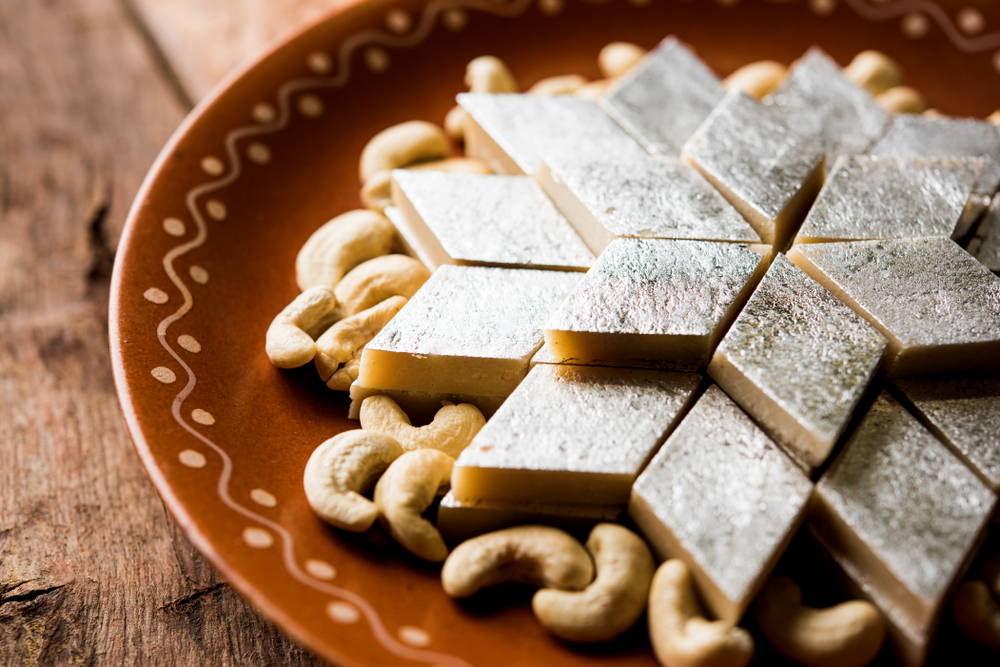 This sweet originates in northern India and though they may look dense, these square shaped mithai are actually a light and flaky confection, sprinkled with a sophisticated garnish of pistachio and rose petal.
These ball shaped sweets are roasted in ghee and made with chickpea or gram flour. They're flavoured with cardamom and sugar (sometimes coconut and sesame seeds make an appearance) and decorated with almonds and pistachios.
Historically, these indulgent little balls were eaten for their medicinal benefits: the sesame seeds are considered to help with indigestion, maintaining low blood pressure and treating the common cold. So perhaps, you're getting 2 for the price of 1 here, a health boost and deliciousness!
An autumnal dessert originating in northern India but today a near universal treat. Often carrot based, this popular sweet is combined with cardamom, khoya, sugar and topped with nuts for added crunch. Sometimes you'll find gajar halwa with dried fruits for tartness and aesthetic. If you're hosting a Diwali party and want to really impress guests, why not serve a slice of gajar halwa with a scoop of vanilla ice cream on the side? You can thank us later…
Perhaps the most distinguished of all the mithai. Jalebi is coiled to form a round, golden-brown, mouthwateringly sweet medallion.The batter, with from saffron (hence the orange-y hue) and cardamom, is fried and left to bathe in a sugary syrup not unlike that of its gulab jamun sibling. To counter the intense sweetness of Jalebi, try accompanying with a samosa.
Sweet, syrupy goodness. Rich berry-sized balls of dough are dunked in rose and cardamom water, then fried in ghee for a beautifully decadent finish. Enjoy them as is, or with a refreshingly chilled dollop of cream on the side.