We know it's international burger day, but with our wide range of authentic global ingredients and spices, we decided to bring you something more exciting: aubergine beef koftas. They're almost like sliders, but with more class!
Iraqi cuisine may contain recognisable Middle Eastern staples like mezze, hummus, kofta and kebabs, but Iraq chefs are justifiably proud of their unique spin on these familiar dishes. This aubergine and kofta casserole, uses slices of aubergine rolled around the kofta (like a burger bun!) resulting in tender, meaty bites dripping with a hearty tomato sauce, thickened with ground almonds (like ketchup...) The presentation is likely inspired by dolma (stuffed, wrapped leaves) rather than burgers, but we reckon they're a worthy contender.
We hope you enjoy this recipe, and remember to tag us in your creations!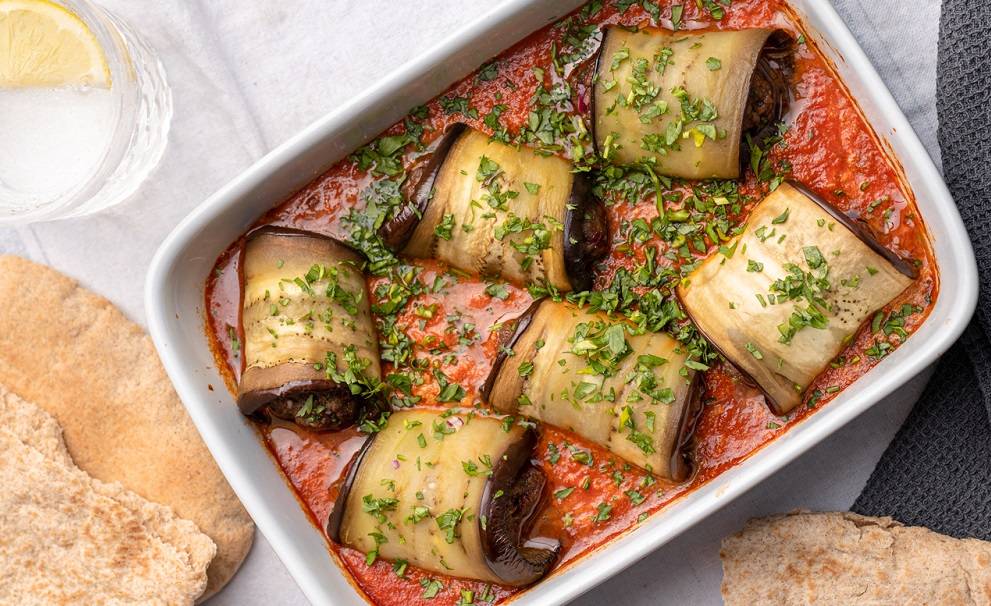 Serves: 4 people
Time: 70 minutes
2tbsp pomegranate molasses
1. Preheat the oven to 180°C
2. Prep the aubergines by slicing them 3mm thick, lengthwise and brush each slice with oil on both sides. Then place on a baking tray and roast for 15 minutes, turning once halfway through. Once out of the oven, place the slices on some kitchen paper to remove any excess oil.
3. While the aubergine slices are in the oven, finely chop the coriander and parsley and grate the onion into a large bowl.
4. To make the koftas, add the mince beef, pomegranate molasses, most of the chopped herbs (keep some aside to garnish) baharat spice mix, most of the cinnamon (save a pinch for the sauce) and chilli flakes to the bowl. Season well with salt and pepper, mix throughly and divide into 24 mini sausage shaped portions.
5. Now to form the rolls. When the aubergine slices have cooled, lay a slice on your largest chopping board, with the widest end of the aubergine nearest to you. Position a mini sausage over the wide end and roll up tightly into a tube shape. repeat until all of the aubergine and mince is used up.
6. In an oven-proof dish, add the passata, the reamining cinnamon and the ground almonds. Season with salt and pepper and mix well. Place the aubergine rolls into the dish, with the loose flap facing down.
7. Cover the dish with tinfoil and bake for 30 minutes.
8. Toast the pita bread 5 minutes before serving.
9. Finally, garnish the aubergine rolls with the remaining herbs, serve, and enjoy!
Click below to get cooking!
Liquid error (templates/article.gem-385906868333-template line 16): product form must be given a product
Liquid error (templates/article.gem-385906868333-template line 16): product form must be given a product
Liquid error (templates/article.gem-385906868333-template line 16): product form must be given a product
Liquid error (templates/article.gem-385906868333-template line 16): product form must be given a product
Liquid error (templates/article.gem-385906868333-template line 16): product form must be given a product
Liquid error (templates/article.gem-385906868333-template line 16): product form must be given a product
Liquid error (templates/article.gem-385906868333-template line 16): product form must be given a product
Liquid error (templates/article.gem-385906868333-template line 16): product form must be given a product
Liquid error (templates/article.gem-385906868333-template line 16): product form must be given a product