Five Lentils You're About To Love!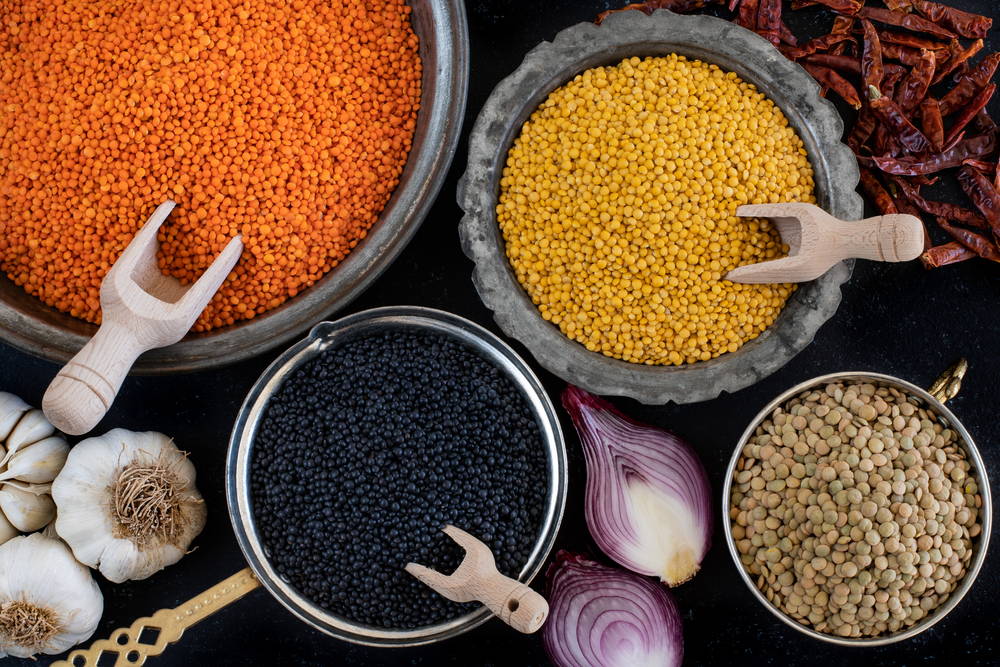 The perfect vegetarian protein and packed with vitamins and vital minerals, lentils are a superfood that British cuisine widely ignores. However, in Indian cooking the humble lentil is a key ingredient that is the superstar of a range of dishes. To help you understand more about lentils, their benefits and what lentils you should be cooking with certain dishes, here's a rundown of the lentils you need to start eating now.

Before mentioning each lentil individually, note that every lentil listed below is packed with protein while containing a low fat content. Lentils are an excellent source of dietary fibre, so, if you are considering reducing your meat intake this veganuary or you're just looking to eat more healthily in 2022, increasing the amount of lentils you eat as part of your regular diet will ensure you still getting all the good protein you need while also drastically reducing your fat intake. These really are a win-win!
With a distinctively yellow colour, toor dal is widely used across India. It is also known as pigeon pea, with the roots of the nickname dating back to the colonial era. It's nutty flavour lends itself to being used in curries, and is most popularly used in the bright yellow Gujarati Dal. Grown nearly exclusively in tropical and semitropical regions, India accounts for 72% of the global production of toor dal.
Gram for gram toor dal is an incredibly healthy food, acting as an excellent source of iron and calcium, while also being packed with protein and giving you reserves of magnesium, potassium, sodium and zinc. These vital minerals are essential for normal growth, tissue repair and development. Acting as an incredible source of proteins, carbohydrates and vital nutrients needed for growth and tissue repair.
You can buy toor dal in 500g, 1kg, 2kg or 5kg.
Also known as mung dal, this dal is the split and skinned by-product of the mung bean. The process of splitting and removing the skin of the mung bean leaves moong dal tasting less bitter and much smoother buttery flavour. Additionally, unlike mung beans which often retain their structure and shape after being cooked, moong dal melts away when cooking. Velvety and rich, moong dal will elevate your dal.
Sometimes called green gram dal, the small pulse is a powerful source of vegetarian protein while also being rich in vitamins A, B, C and E, which contributes to proper bodily function and maintaining healthy skin. Additionally, regular intake of moong dal is great for lowering your cholesterol and improving vein and artery health.
You can buy our moong dal in 500g, 1kg, 2kg or 5kg.
Also known as urad dal, these lentils are split and skinned black urid. Revealing a white interior, urid dal is milder in flavour than black urid and less bitter. Maintaining an earthy taste, urid dal is popular for making spicy dal commonly served with roti.
With high levels of vitamin E and antioxidant properties urid dal is brilliant for your skin and hair health due its natural antiseptic which properties aid clear pores and allow more efficient skin cell growth. Similarly to the other lentils mentioned, urid dal is a powerful source of fibre which aids digestion and boosts energy.
You can buy our urid dal in 500g, 1kg or 2kg.
Chana dal is one of the most popular forms of lentils and is also sometimes referred to as split chickpea lentils. Chana dal can also be ground and dried and turned into gram flour. Due to being chickpea based chana dal is a lentil that is universally suited to curries as a protein replacement and healthy alternative to meat.
The health benefits of chana dal are found in the large amount of folic acid. This acid is densely rich in folates which helps prevent and fight diseases. Mildly nutty in flavour, chana dal is a tasty way to help lower cholesterol and help increase the health of your heart.
You can buy our chana dal in 500g, 1kg, 2kg or 5kg.
Also known as red lentils, masoor dal is incredibly popular as a health food and a main source of vegetarian protein. Bright orange on the inside, masoor dal maintains its shape upon cooking and acts as a great source of protein in soups, stews or curries. It has been popularised due to its high nutritional value while also remaining low in fats.
Packed full of vitamins A, C and E, masoor dal lentils are great for hair, skin and eye health while also providing essential nutrients for fighting disease and proper bodily development. Small in size and with a relatively neutral taste they lend themselves to creamy curries and cook quickly.
You can buy our masoor dal in 2kg.