Introducing Red Rickshaw's First Paneer Range
Featuring an exclusive chefs recipe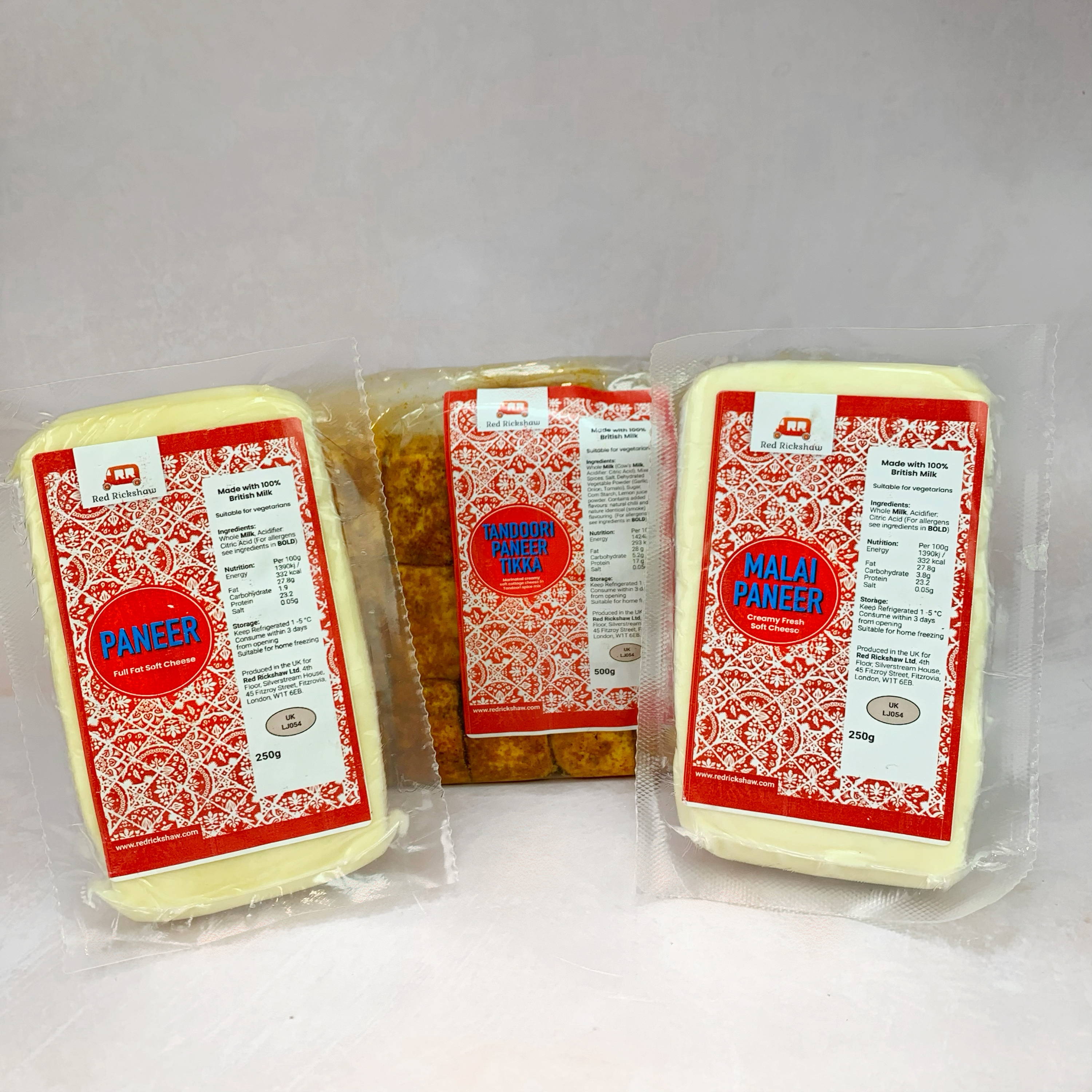 While Italians obsess over their parmesan and Greeks can't live without their feta, Indians love their paneer. Humble in its origins and versatile in nature, the magically soft, melt-in-the-mouth ingredient has deemed itself to be an indispensable part of the South Asian taste palate. Whether you're a fan of Asian flavours or are looking for something to add an extra dimension to your home-cooking, paneer cheese is fast becoming a favourite in kitchens across the world.

Paneer is a fresh, non-aged, often unsalted, white cheese that's mild and milky in flavour, and dense and crumbly in texture. Although humble in taste, paneer is often the hero of any dish it's added to. Traditionally cut into cubes and either fried or roasted, paneer creates a crisp crust and a melty middle, acting as a blank canvas for housing beautifully fragrant flavours and spices. Once used most often stirred into soups and added into curries, in more recent years, this incredibly versatile ingredient has found its way into stir-fries, stews, salads and everything in between. It remains the star ingredient in many beloved Asian dishes such as Saag Paneer, Paneer Makhani, Achari Paneer and Paneer Kebabs.
We are thrilled to announce our very first own Red Rickshaw brand Paneer range which comes complete with our Malai Paneer, Malai Paneer Tikka and regular paneer. We've taken time to ensure that we source our paneer from top quality providers and have selected only the best for our brand based on texture and taste. Our regular Red Rickshaw paneer is made from 100% whole British cow's milk, it is fresh and soft but low in moisture content meaning it is perfect for frying and used in traditional curries and gravies. Red Rickshaw Malai Paneer is a super creamy, melt-in-the-mouth paneer, made from pure full cream cow's milk. It's more flavourful than regular paneer so it's perfect consumed on its own as a snack, as an accompaniment in a light curry, stir fry or as a salad topper.To make things extra exciting, we've thrown in a pre-marinated paneer made from pure fresh cows milk in a blend of Tandoori spices; ready to grill or barbeque. Say goodbye to the rubbery texture of commercial paneers!
Stay tuned for an exclusive recipe from one of our chefs on how to use our paneer. Our range is now live, buy now from the UK's largest online Asian grocer!

1 block (250g) Red Rickshaw Paneer
Aromatic spice blend (1g kashmiri chilli powder, 1g turmeric powder, 1.5g ground coriander, 1.5g ground cumin)
1. Prepare the veg: cut the paneer into 1 inch cubes and combine with the tandoori paste in a mixing bowl. Set aside to marinate. Preheat your oven to 220 degrees celsius
2. Prepare the kofta mixture: chop the peppers into roughly 1 inch squares and cut the onion into wedges. Place both on a roasting tray, drizzle over a little oil and sprinkle over a pinch of salt. Place the marinated paneer on top of the vegetables on your tray
3. Cook the kofta mixture: roast the vegetables and paneer in your oven for 12-15 minutes
4. Make the hariyali dip: Strip the mint leaves from their stalks and finely chop them together with the coriander and green chilli. If you have a blender add all these three ingredients and blitz into a smooth paste, adding a splash of water to loosen if necessary. Mix the paste with the yogurt, aromatic spice blend, salt and pepper to form the dip
5. Final step: serve the roasted tandoori paneer and vegetable sizzler with the cooling hariyali yoghurt on the side
Click below to get cooking!