How to celebrate holi at home
Don't let coronavirus take the colour out of holi!
Holi marks the dawning of spring. India's festival of colours celebrating rebirth, renewal, love and the triumph of good over evil. A time of year we usually associate with joy and excitement. Holi is a feast for the eyes, with clothing and bodies alike bedecked with rainbow coloured powder paints.
This year, it looks like we'll have to do holi a little differently. Coronavirus may well confine us to indoor merrymaking, but we see no reason for that to limit the fun. We've got the perfect multi-coloured and multi-purposeful activities for you to enjoy in the comfort of your own home.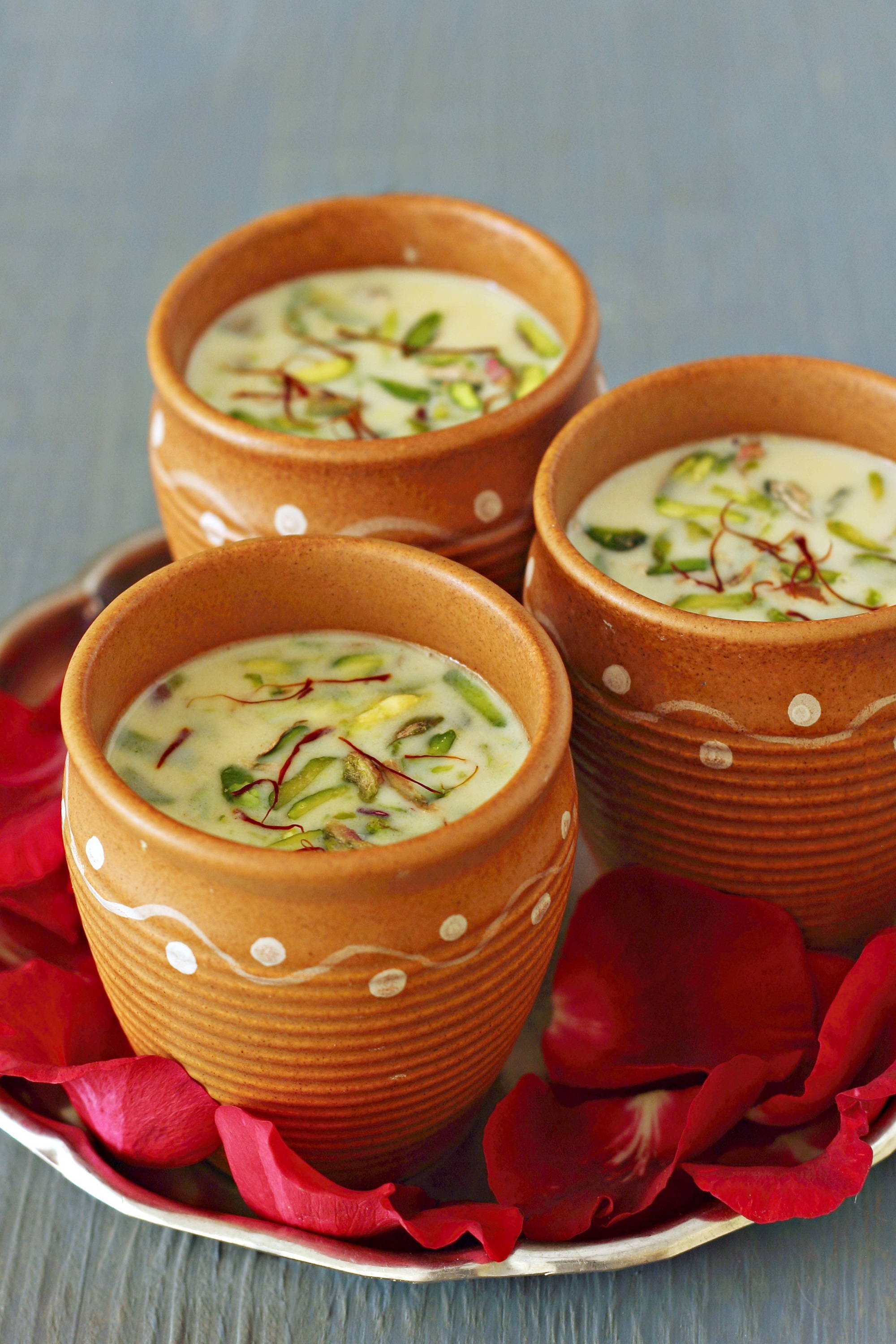 Obviously we had to start with food related activities. After all, what's an Indian festival without decadent treats? The essence of holi is vivacity and excitement: an excuse to eat foods that awaken the senses and keep your spirits high.Try making these tasty foods and drinks at home.
It's sweet, it's creamy, it's cooling. This traditional holi drink is laced with nutty, warmly-spiced flavours. If you're feeling a little more decadent, a gentle splash of gin really ties this drink together with a playful kick.
TIME: 35 minutes
SERVES: 5
1 tbsp Black peppercorns
10 Green Cardamom pods
4 tsp Poppy Seeds
1 tbsp Fennel Seeds
2 tbsp pistachios, roughly chopped
4 tbsp of Blanched almonds

2/3 strands of saffron

1 handful of rose petals
1 litre of Whole Milk/Milk alternative
½ Cup of Sugar
2-3 tbsp Rose Water
1. Place the blanched almonds in a blender with the peppercorns, fennel seeds, poppy seeds and cardamom pods. Grind to a smooth paste. You could add a splash of water to the paste if needed
2. Pour the milk into a saucepan on medium heat. Bring to the boil, then simmer
3. Remove 2 or 3 tbsp of the hot milk from the pan into a small bowl. Add the saffron strands to the hot milk and set aside until it develops a golden colour
4. Add the masala paste to the milk in the pan and mix using a spoon or whisk
5. Add the sugar, stir well until it dissolves, then remove the heat
6. Add the golden saffron milk and stir. Then leave the thandai to sit for 30 minutes
7. Halfway through resting, add the rose water and stir, then continue to rest
8. Strain the thandai using a sieve into your glasses or a jug
9. Place the jug in the fridge until you're ready to use
10. Just before serving, add the chopped pistachios and the rose petals.

A sweet pastry, fried and filled with dried fruits and moreish khoya. To learn how to make it, we recommend following this easy-to-follow recipe. Click here for a great Gujiya recipe
Highly popular holi food. Bring the colour to your kitchen with a beautiful golden bowl of lavish saffron rice. Remember, a little goes a long way, don't over do it with saffron. It's not cheap! Serve with a vibrant dhaniya chutney and tarka dal on the side.
Liquid error: product form must be given a product
Liquid error: product form must be given a product
What's a festival without music? Create your own holi playlist and dance until your feet hurt. Spend time scrolling through new songs and artists to update your music library, before you bust a move. Otherwise, there are some brilliant bollywood or holi playlists that already exist. One of our faves is: Badri ki Dulhaniya – Badrinath ki Dulhaniya

3. Inject colour into your self-care routine
Colours are at the heart of holi. Red signifies love and fertility. Blue, determination and compassion. Yellow: purity. Green, new beginnings and the start of spring. There's a chance you'll have to skip the paint powders this year, but we've got the best way to bring the colour back to your faces: multi-coloured, home-made, all natural face masks.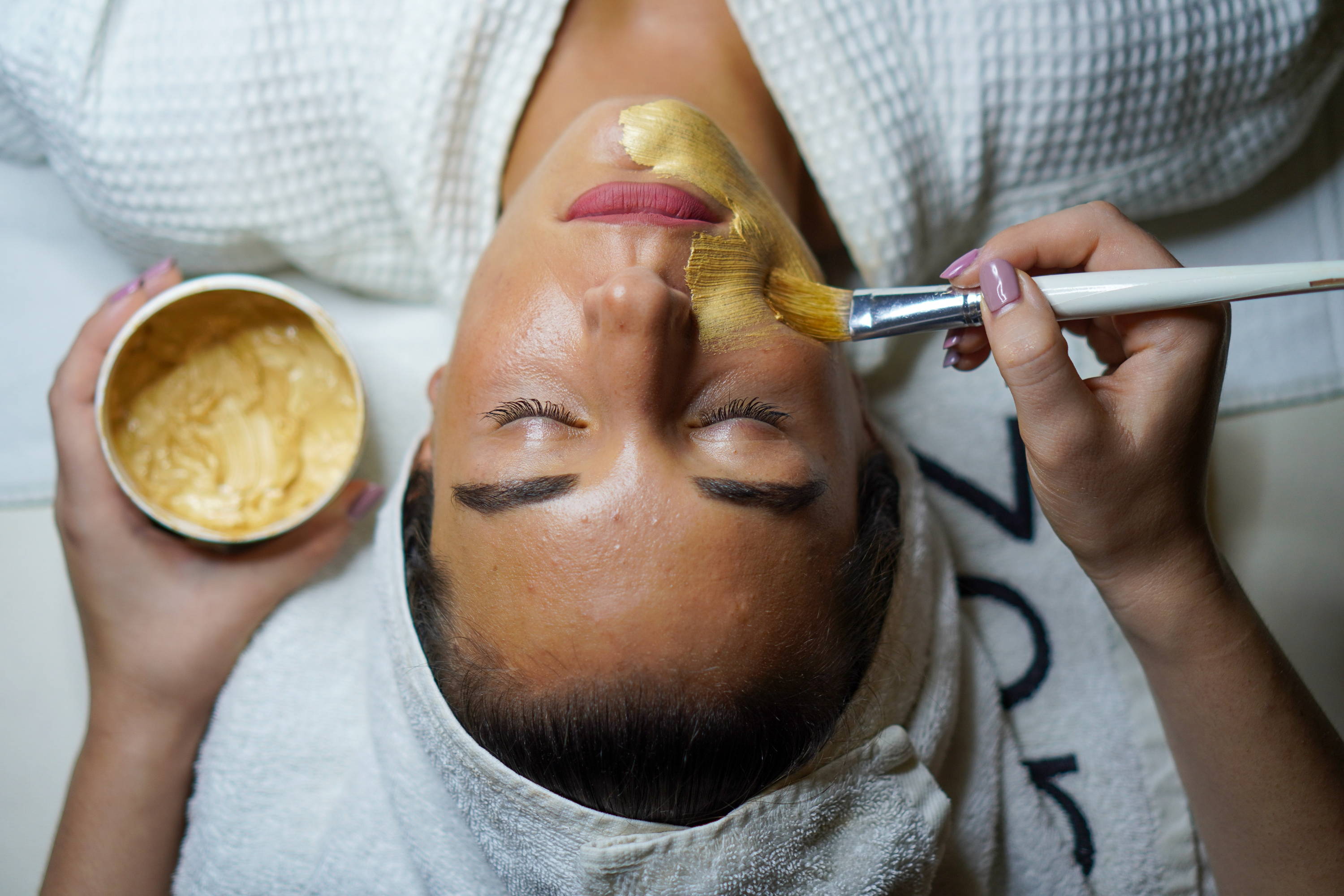 1 tbsp Honey
1 tbsp Yoghurt
1 tbsp Smashed Avocado
¼ Grated Cucumber
1 tsp Melted Coconut Oil
Mix all the ingredients in a bowl. Apply to the face and leave for 10 15 minutes, then wash off with a warm flannel.
Anti-inflammatory Mashed Banana Mask:

½ Banana, mashed
1 tbsp Honey

Mix all the ingredients in a bowl. Apply to the face and leave for 10 15 minutes, then wash off with a warm flannel.
Ginger Glow- for tired skin:

1 tbsp Honey
1tsp Ginger Root
1tsp Powdered Ginger
1tsp Rose water

Crush the ginger root into a rough paste, then add to a bowl with the rest of the ingredients. Focus on the areas with dark circles. Leave for 15 minutes then wipe away.
Blackberry and Basil healing mask

3 tbsp basil
1 handful of blackberries
1 tbsp honey

Roughly chop the basil. Place the blackberries in a sieve, held over a bowl. Press down on the blackberries to strain the juice into the bowl. Add the honey to the black berry juice, add the basil and mix well. Apply to your face, leave for 10 minutes, then wash off with warm water.
1tbsp Oats
1 handful of mashed blueberries
1tsp raw honey
2 tbsp Plain yoghurt

Mix all the ingredients in a bowl. Apply to the face and leave for 10 15 minutes, then wash off with a warm flannel.
4. Marbled art - using shaving foam
Spray enough shaving foam into your tray to give a layer approximately ¼-inch thick and slightly larger than your paper, using your ruler to create a smooth, even surface.
Add small drops of each colour to the foam and, using an old pencil, draw lines and swirls through the coloured areas.
Try not to over-work the patterns as simple patterns and squiggles look best.
Carefully lay paper on top of the foam, pressing gently to create a print, and leave in place for a couple of seconds.
Peel the paper away from the foam and put it aside to dry, running the ruler carefully over the picture to remove excess foam.