WHat is India's most popular curry?
At Red Rickshaw, we believe that you can tell a lot about a person by their curry preference. It's true, there's a lot to interpret about a person's character from the type of masala infused gravy they'd tuck into. In fact, there's even more to be learned from a person who doesn't like curry at all! Star signs are great and all that but we're pretty shocked that nobody's invented a dating app that filters potential love matches by their favourite curry. Imagine: 'Swipe left for your masala Mr Right'. We should probably patent that idea — you heard it here first.
Just to be clear, we at Red Rickshaw do not discriminate. We open all curry lovers with open arms. Whether you're a mild and sweet curry lover, a coconutty curry conformist or you champion that a curry isn't a curry unless you've broken a sweat.
Now that our brief ramble is over, it's time to unveil what's been voted as India's most popular curry… A round of applause please for...
Murgh Makhani AKA Butter Chicken!
Surprised? We're not. Mildly hot, heavily spiced and slightly sweet; butter chicken has to be the nation's sweetheart. It caters to all palettes.
Butter chicken blessed the culinary scene in the middle of the 20th century by a chef who was looking for an innovative way to use up leftover chicken. Today, it is not only one of the best-known foods in India, it's also one of the most popular foods all over the world.
Typically, butter chicken is made from chicken thighs. The meat tenderises in its blanket of yoghurty marinade. If you're looking for a veggie curry, uber-talented chef and owner of Brilliant Restaurant, Dipna Anand, recommends using mushrooms as an alternative. Watch Dipna make her famous 'Easy Punjabi Butter Chicken' on our IGTV.
Once you've watched that, it's highly likely you'll want to have a go at making this yourself. So here's what you need to make Dipna's butter chicken. Once you've got everything you need, set up the video in your kitchen, follow the prep instructions below and you're ready to recreate this sensational recipe with the help of the award winning Dipna in your own kitchen!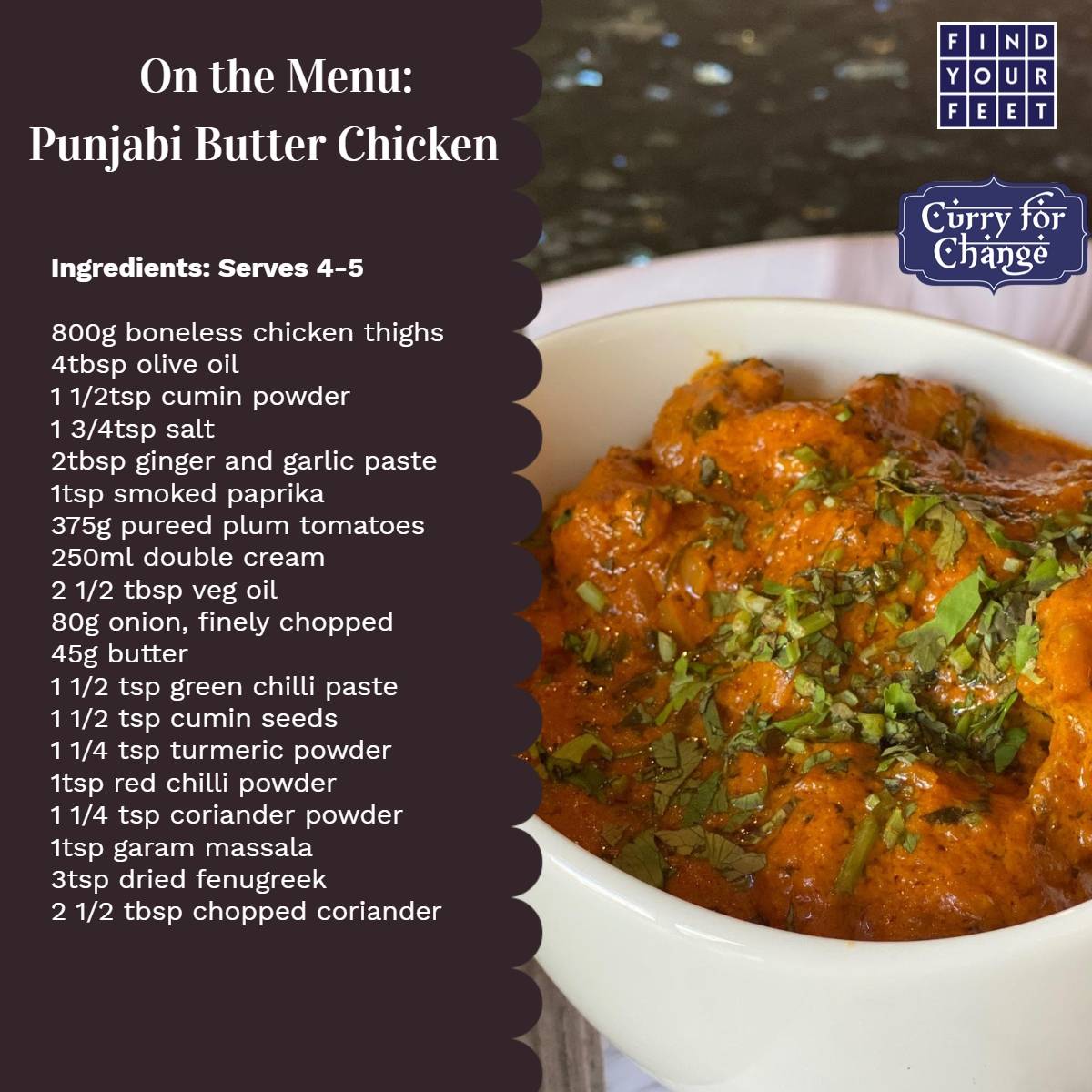 1 tbsp Ginger and Garlic paste
375g Tinned Plum Tomatoes, pureed

80g Onion, Finely Chopped


1tbsp Ginger and Garlic paste

1 ½ tbsp Green Chilli Paste

3 tsp Dried Fenugreek (katsuri methi)
Click below to get cooking!