4 Delicious Asian Pancakes You Must TRY!
Whether you're clearing out your cupboards in preparation for the first day of Spring or just want some delicious pancake inspiration, Red Rickshaw has put together four great alternative Asian pancakes that will be sure to leave you licking your lips. You've tried French crepes and American pancakes a million times before, so why not try something new this pancake day?
Pancake day is one of the tastiest days of the year, full of family traditions, fun and, usually, lemon and sugar! Also known as Shrove Tuesday, pancake day arrives the day before Ash Wednesday, which falls exactly six weeks before Easter begins. However, if you're fancying something savoury this year, or looking to make a statement for the 'gram, we've put together some alternative pancakes from Asia that look amazing and taste even better.
There's something for everyone with our alternative pancake suggestions, so even if you're a complete novice in the kitchen, we'll take you through some super simple steps so that you can be serving up some mouth-watering pancakes in absolutely no time.
You'll find a lot of these ingredients in your kitchen cupboards, so while you may be taking a step into the unknown, you'll feel right at home in no time.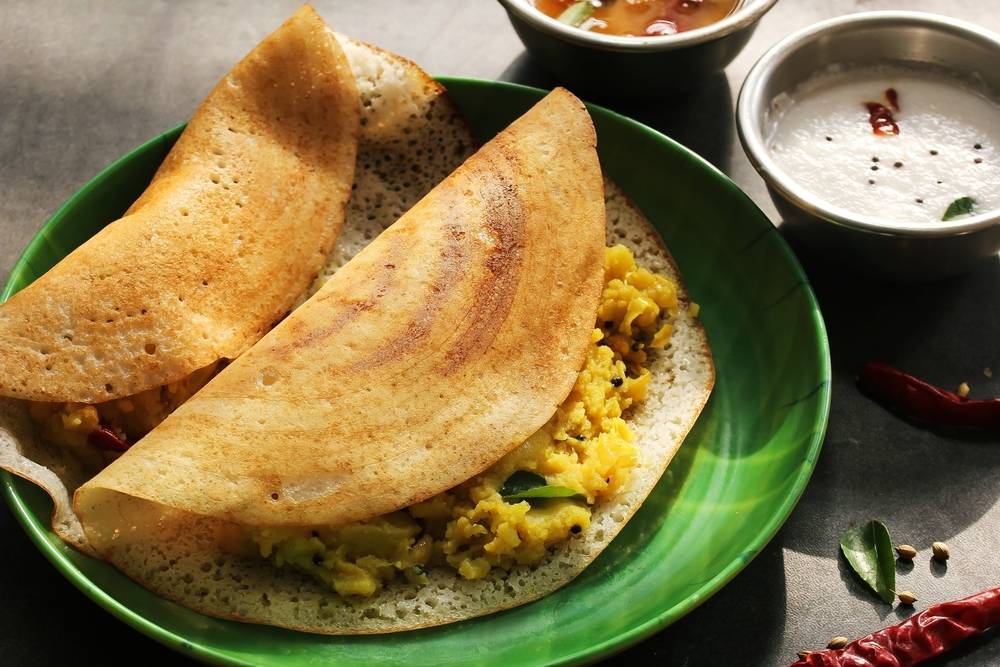 Dosa is a thin pancake from South India which uses soaked lentils and rice to form the batter and is popularly eaten as a savoury food but can be made sweet too. Making the batter from scratch requires soaking split urad daal lentils and basmati rice in water overnight, blitzing and thinning. However, it is commonly made with an instant pre-mix which only requires a splash of water to get started.
In order to cook your dosa, lightly oil a heated pan and pour the dosa batter in the centre of the pan. Quickly spread the dosa batter from the middle so the batter thinly covers the entire pan, similarly to how you would make crepes. Allow the batter to cook for a minute or two, gently lifting the edges of the dosa until the underside is golden brown. Do not flip the dosa, cooking just the one side and removing from the pan when the underside is a light golden brown.
Dosa is commonly served as a savoury snack and is traditionally enjoyed filled with masala or sambhar. Mix together and cook diced onion, pepper, cumin seeds, mustard seeds, curry leaves, turmeric, ginger and a couple of hot chillies with cubed and boiled potato to make an easy and quick masala to fill your dosa! Enjoy!
Japanese Souffle Pancakes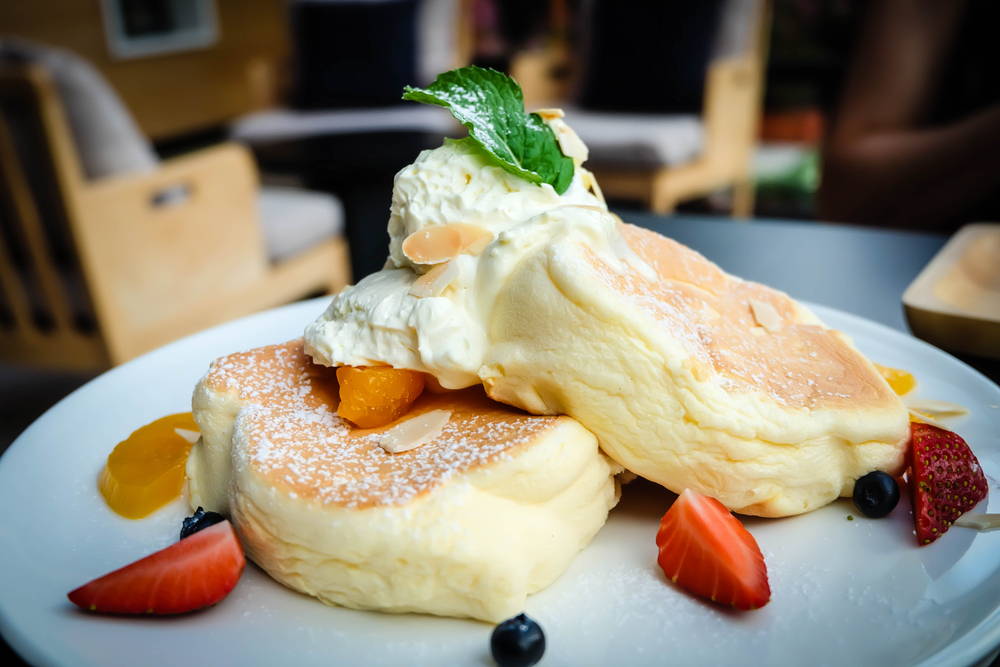 These fluffy delights find themselves sitting halfway between a souffle and a pancake, and while they may look challenging to make, they only use six ingredients! Eggs, sugar, flour, milk, baking powder and cream of tartar (or half a teaspoon of lemon juice).
To create the batter for these pancakes, you must first create the basic dough by mixing 2 egg yolks with 20g of sugar. Slowly add a few tablespoons of milk, 1.5 tablespoons of oil and 30g of flour and a sprinkle of baking powder. Set this mixture aside once mixed.
Next, combine a further 20g of sugar with 3 egg whites and your cream of tartar or lemon juice (this will help your egg whites expand to their potential) and beat thoroughly until it has formed stiff peaks. Ensure this mixture is well whipped, otherwise, your pancakes will fail to rise. Now gently combine the two mixtures, carefully folding the egg yolks into the stiffened whites. It is crucial you don't beat mix these together too vigorously as you need the air to remain inside the whites mixture.
Now, you cook! Pour small circles onto a lightly oiled pan which should be on very low heat. Cover the pan with a lid and cook for 4-5 minutes before flipping and cooking for a further 4-5 minutes. Enjoy these with powdered sugar, fruit, or your favourite toppings!
Chinese Spring onion Pancakes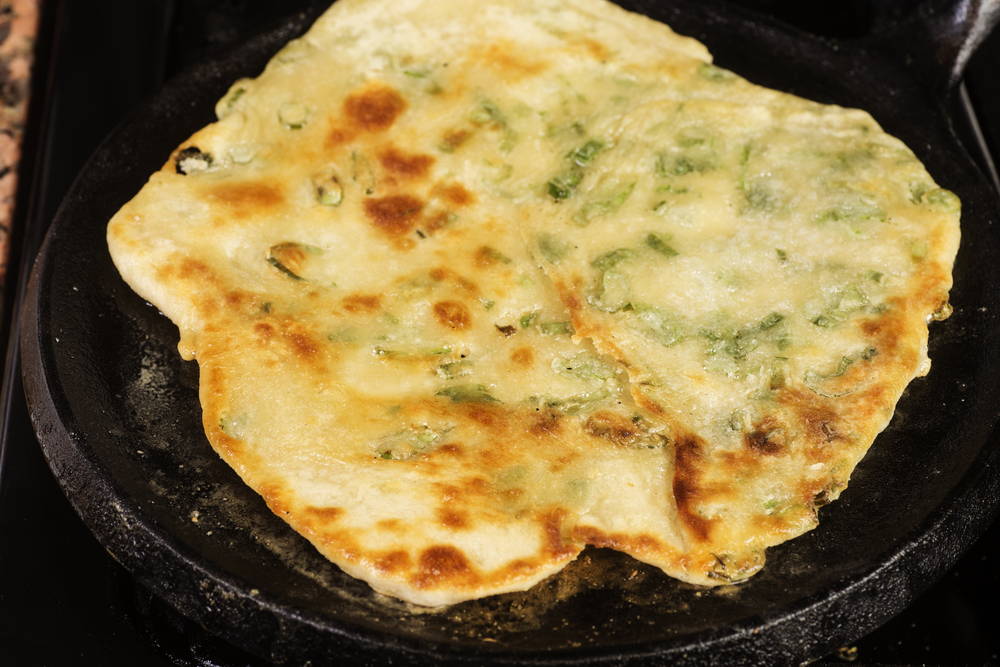 Popularly enjoyed as an easy breakfast, these pancakes Chinese pancakes are super quick and only use one bowl. Traditionally these pancakes are made using lard and involve kneading the dough, making them time and labour intensive, however, these pancakes skip all the hard work while still giving a delicious end result!
Mix together plain flour with water, salt and a healthy glug of sesame oil. The sesame flavouring is strong in this dish, so it's important to get a high-quality sesame oil such as Yeo's sesame oil. Next, finely chop your spring onions and break them apart slightly. Mix these into the batter.
Heat your pan to medium-high heat and lightly cover the surface with oil. Pour the batter into the centre of the pan and quickly spread around the surface of the pan from the centre. These pancakes should be thicker than French crepes, but not drastically. Cook one side for 3-4 minutes until golden brown and then flip and repeat. Enjoy these pancakes alone, or if you're hungry, pair with a fried egg.
Crispy Jackfruit Pancakes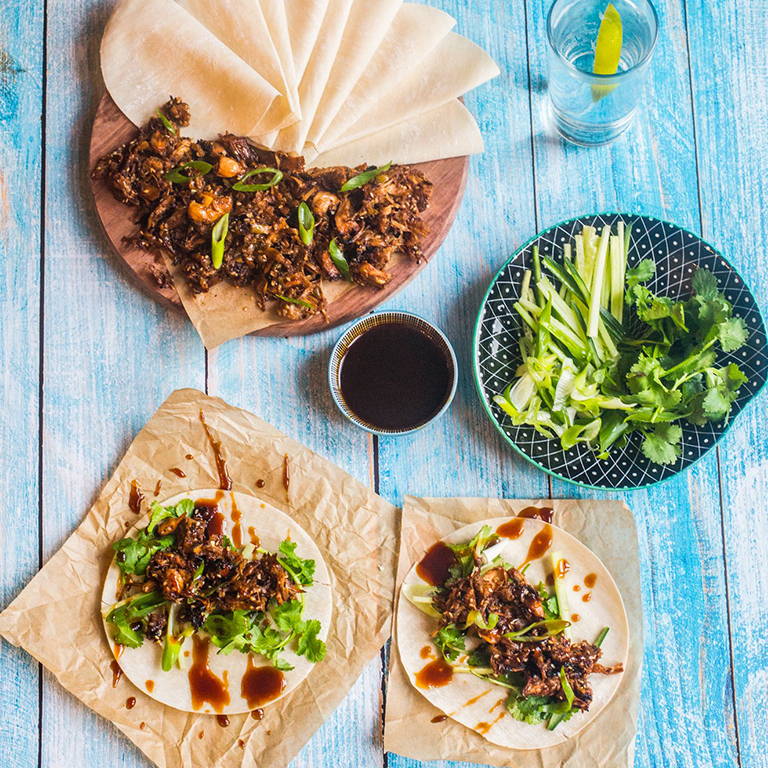 Our sister company FeastBox love pancakes just as much as we do here at Red Rickshaw. That's why they created their own Chinese crispy duck pancakes with a vegan twist. A take on the classic duck pancake, this jackfruit alternative is the perfect dinner time delight to enjoy on pancake day.
Made from cooking jackfruit with Chinese five-spice and sesame oil, the jackfruit is then coated with a complex flavoured and rich sauce made from soy sauce, spring onions, hoisin and rice wine vinegar. The sticky jackfruit is then crisped up in the oven and cucumber, coriander and spring onions are added as a garnish alongside a healthy drizzle of plum sauce.
You can order these pancakes in time for pancake day on FeastBox here. Or, if you're all set for pancake day but still want to travel the world with your taste buds, discover the rest of the FeastBox menu: full of Asian flair and other global cuisines including Caribbean, Middle Eastern and Mediterranean.