3 Vegetarian Recipes That Are Perfect For Those Looking To Try Something New!
Being a vegetarian can sometimes feel like hard work. With a slimmer range of foods out there for you to eat on a daily basis there can be periods that feel as though you are eating the same meals and cooking the same recipes over and over again. Here at Red Rickshaw, are specialists in world food and seasonal produce, and we believe firmly diversifying your diet beyond ordinary everyday vegetables. Instead, we want to show the great tastes, flavours and meals that you can cook with some less commonly found, but incredibly exciting, vegetables.
Scroll down to see 3 delicious and easy vegetarian recipes that we bet you've never tried before!
Our dudhi fritters recipe is a wonderfully easy, crisp and light vegetarian recipe that serves as a brilliant snack or, after adding a few dips and sides, is a great main. Long dudhi has a hint of a peppery flavour, with a fresh taste while remaining slightly bitter. Usually harvested young, this vegetable is high in water content and is commonly grated and added to salads, stir-fried vegetables, and soups. Dudhi works well for crispy fritters as it holds its crunch, even after cooking!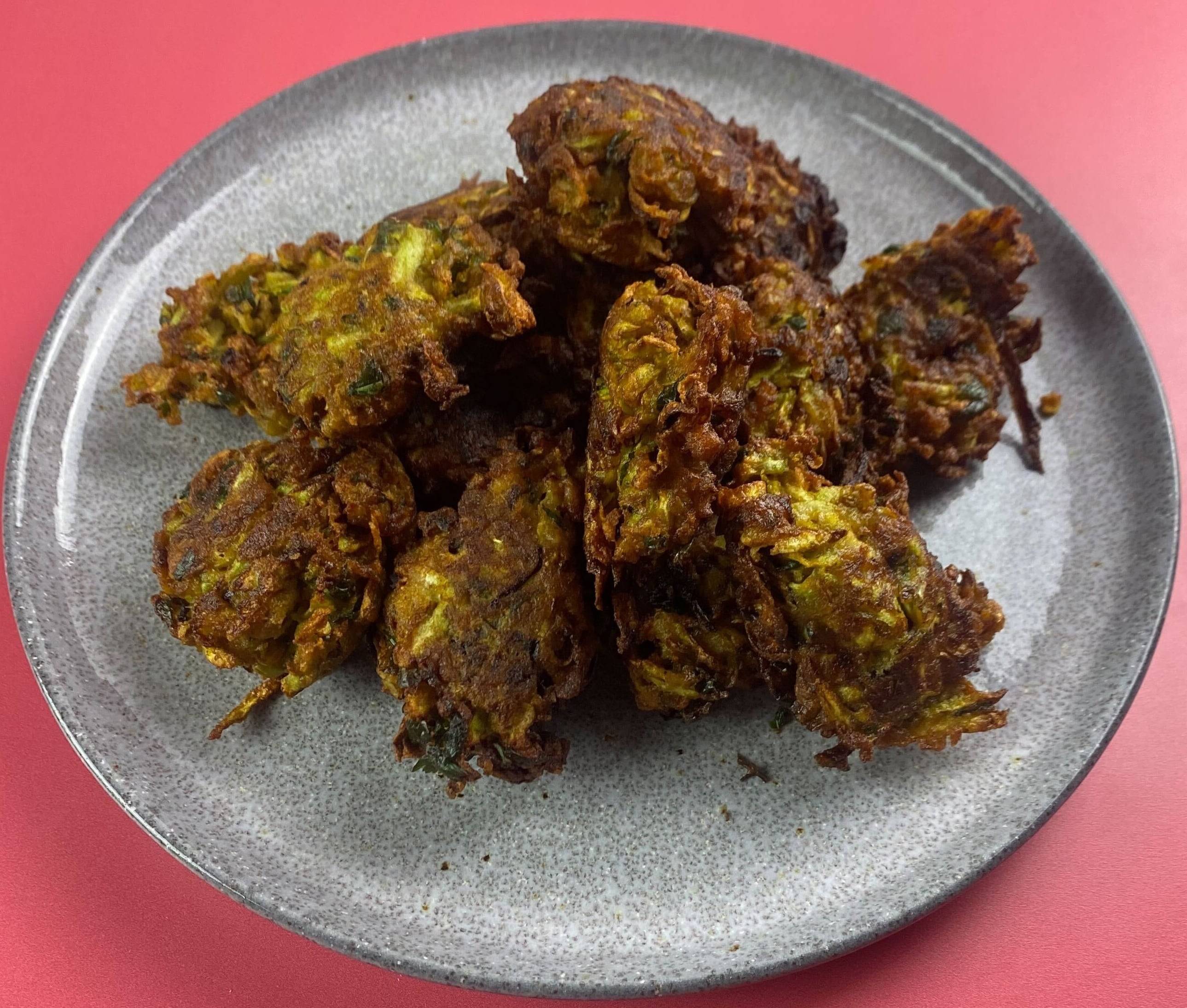 How To Make Dudhi Fritters
Method:
🔸Peel and grate the dudhi, then mix with 1 tsp of salt. Leave for 15 minutes.

🔸Using your hands, squeeze the water out of the dudhi and discard the water. This will help each fritter hold together.
🔸Add all spices, chillies and coriander to the dudhi along with the gram flour and cornflour. Mix well to form a coarse batter.
🔸Heat ½ cm of oil in a saucepan over high heat. Once the oil is hot enough, dot heaped tablespoons of the dudhi batter around the saucepan and fry for 4-5 minutes, turning regularly to ensure they turn evenly crispy.
🔸Once the dudhi is crispy and brown on the outside, remove from the oil and drain on kitchen paper. Serve with tamarind chutney.
Okra fries bring the very best out of a versatile vegetable. With a soft crunch and salty batter, the vegetarian recipe takes less than 10 minutes to throw together and creates a delicious side dish that will elevate any curry or main. Okra is absolutely jam-packed with antioxidants and as a warm season vegetable its a great summertime snack! Peak season for okra lasts until autumn when the weather starts to cool, so give these okra fries a go soon while they're still tasting their very best.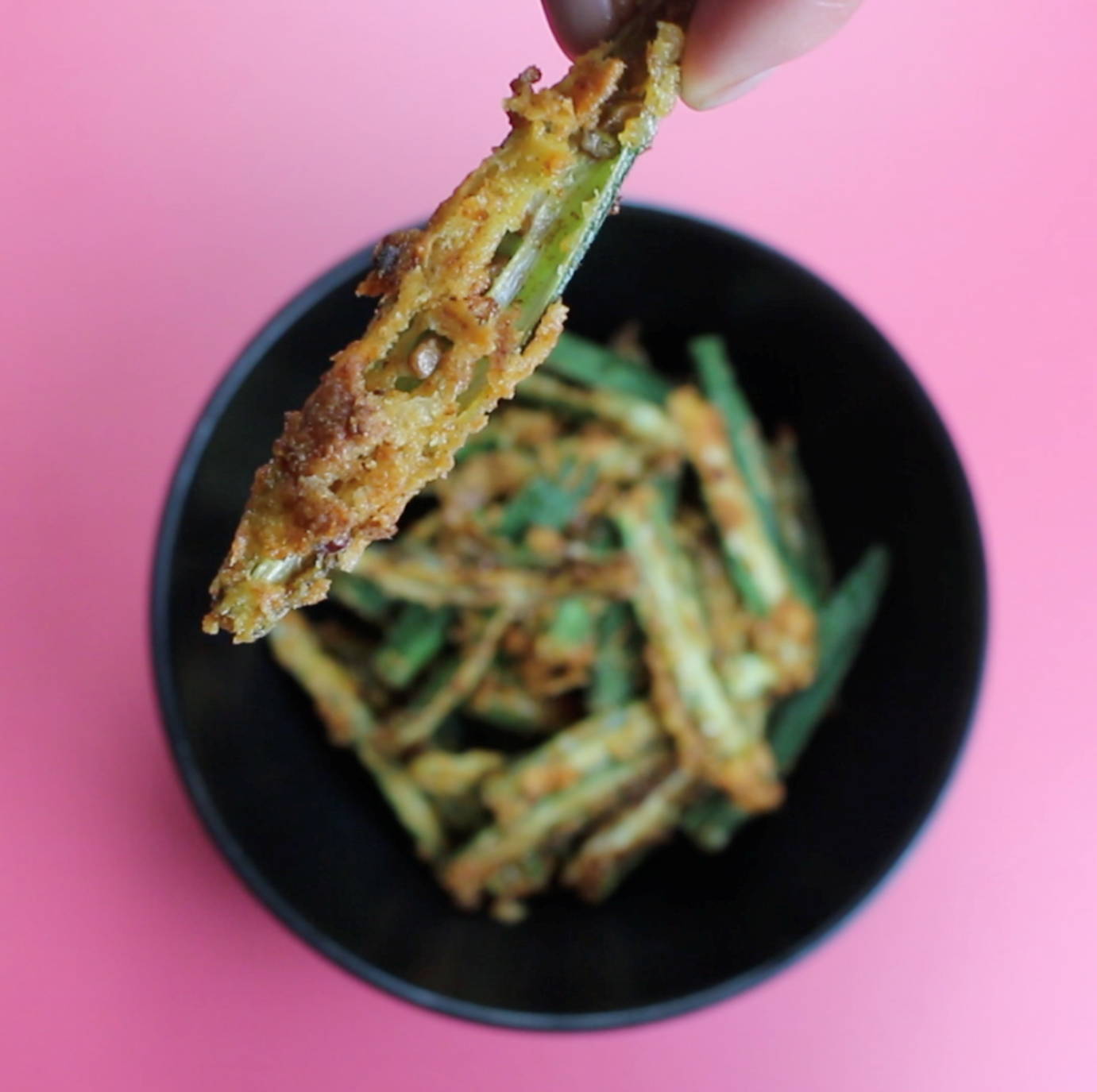 How To Make Dudhi Fritters
Method:
🔸Chop both the stalks and the tips off the okra.
🔸Mix with all the other ingredients and cover okra.
🔸Heat a large saucepan with oil up to ½ cm deep. Once the oil is hot, drop in the okra and fry for 3-4 minutes turning over halfway through until they are crispy.
🔸Drain on kitchen paper and enjoy!
Bitter melon, also known as karela or bitter gourd, is a visually stunning vegetable that is as healthy as it is breath-taking! Packed with nutrients and vitamins, bitter melon is a superfood powerhouse with a sharp taste. Bitter melon is particularly brilliant when sliced and shallow fried and this vegetarian recipe is incredibly popular in traditional Indian cuisine. Mixed with garlic, salt and pepper, this vegetables strongly distinctive flavour works excellently as a side dish or a quick snack!
Method:
🔸Cut the bitter melon in half and scrape out the seeds from the middle, then slice.
🔸Put in a pan with salt and cover with water. Bring to boil and cook for 2 minutes. Drain and rinse in cold water.
🔸Heat 2 tbsp of oil in a frying pan and add the chopped garlic and bitter melon. Cook over a medium to low heat for 8-10 minutes. Add a pinch of salt and pepper.